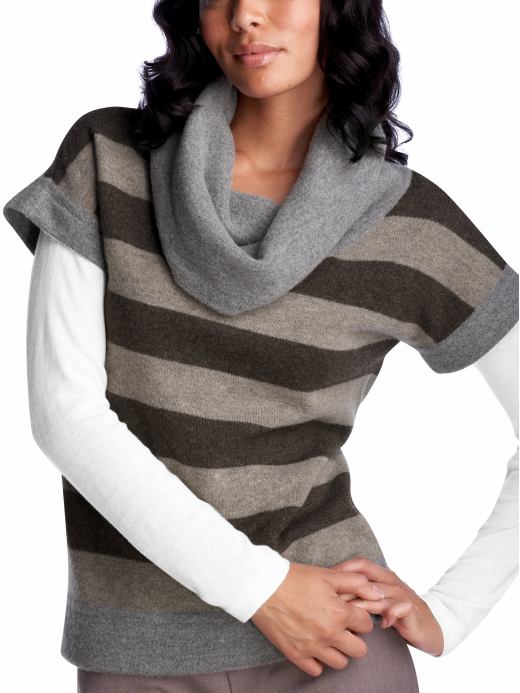 In some recent GAP ads, you've seen many celebs looking more fabulous than ever.  I was at the mall one day thinking, why can't everyone look like that?  Answer:  they can.  My fingers ran across tons of fabrics searching for the perfect "It" item for any women. Suddenly I found it.  It was the Cowlneck Sweater I had seen on the model Maryna Linchuck.  This fall/winter, I know for sure it would be huge.  The great rugby stripes makes it super cute, and the tailored short-sleeves are to die for.  On the street, Rebecca Romijin had been spotted promoting this one of a kind look.  Click
I WANT TO SEE
 now.  Back to this trend-setting item, everyone woman needs this item.  And now for my Top Five Tips. You ready?  Then go!
Tip 1:  Layering is great with this "It" item.  Try a wool blazer over it or double-breasted coat. It gives you that warm feel to the look.
Tip 2:  Add some color!  Some nice plain pastel colored tees are perfect with this sweater.  Also some jewel accessories will make a great statement.  Be bold!
Tip 3:  Wear it everywhere!  Not kidding, this is a perfect piece to use all the time (but of course not everyday).  Work, school, whatever!  This is a pure classic!
Tip 4:  To make this outfit laid back, add some wide legged pants or flare dark denim jeans.  A bell skirt would also make this outfit comfortable, and casual.
Tip 5:  Show some spirit!  Not the cheer kind, but the smile kind.  The way to make everyone envy you is that you love what you're wearing.  So it may be different from other stuff people wear, so what!  This is all about you making your very own statement.  Show off your new look, and get ready for everyone to be green with envy.
More "How to..."s coming really soon.  And remember to check out Glambition!